Build Student Enrollment and Community Awareness!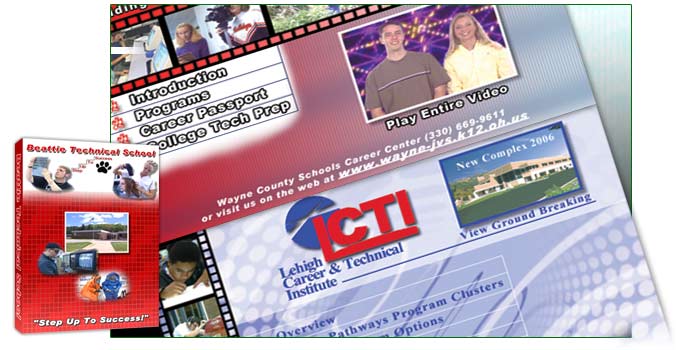 Recruit Students, displaced workers, and industry trainees.
Increase students awareness of career programs.
Position your institution and School District as progressive & innovative.
Increase awareness among accreditation agencies, and government legislators.
Gain Community Awareness and Support.
The valuable tools listed below will accomplish the goals listed above:
A High-Tech Custom Recruitment Video, Interactive DVD and Flash Video Streaming Internet Website from Technimedia Studios will do all this and more for your school!
Technimedia Studios provides complete production services from script to screen, using broadcast quality equipment and techniques. Technimedia Studios crew will travel to your location, video tape your program areas, interview students, successful graduates, and business & industry leaders to gather footage to produce a custom designed recruitment program for your recruiting and public relation personnel to proudly present to prospective students, business and industry, civic organizations and the general public.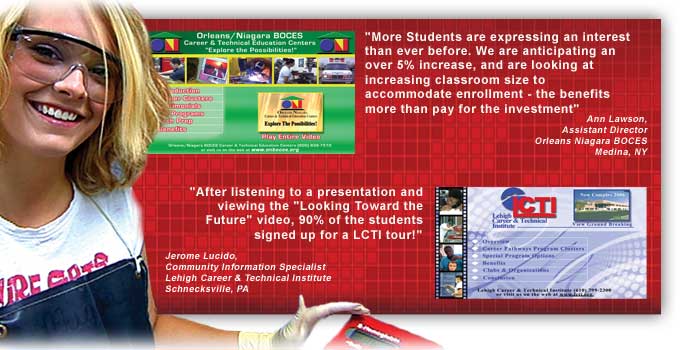 No matter where your school is located, Technimedia Studios LLC crews will travel to your location, spend up to a week video taping in your specific program areas, and produce a custom designed recruitment video for your recruiting personnel to proudly present to prospective students, business, industry, civic organizations and the general public.
We provide complete services from script to screen, using broadcast quality equipment and techniques at affordable prices.
Go High-Tech with an interactive DVD, and Internet Streaming Website. Use the latest technology to play the entire video, branch out to individual career clusters, career programs, student organization, benefits, and home feeder school sections of your promotional video with a single click.
DVD & Internet Video Streaming Websites - We provide everything that you need to set up an Flash Internet Video Streaming Website for your school. The Flash website is exactly the same as your custom DVD and can be accessed by potential students, parents, and the community from any computer via the internet.
Check out some samples of Flash Websites produced by Technimedia Studios LLC.
Wilkes Barre Area CTC - http://www.wbactc.org/VIDEO/FlashDVD.swf

RG Drage CTC -http://www.drage.stark.k12.oh.us/index.html

Catalog Layout and Design - Check out our award winning layout and design of Program Catalogs.
Download a sample copy of the LCTI Catalog!
Download a sample copy of the Delaware County Technical High Schools Catalog!
Please Call 1-304-919-5230
for a Demonstration of an Interactive DVD, Course Guide Sample and our Friendly Advice!
Why Technimedia?
33-years of experience – We have been working with administrators and educators in the production of multimedia materials including broadcast video, audio, print, and software.
Progressive management team - We are cvommitted to working within tight educational budgets who can design a program to meet your specifics needs.
We do what we say! - We are not just interested in getting the contract; we are interested in building long term relationships.

We never go over budget - We get the job done at the price agreed upon and keep this promise because we never out-source any work to make changes for our clients – All work is done in-house.
We listen to our clients! - No job is finished until our clients are totally satisfied.
Company History
Since the formation of Technimedia Studios in 1984, the company has specialized in the production and development of first-class customized educational and promotional videos, software, printed materials and radio and television advertising campaigns. Our emphasis has been in the area of education because we are dedicated to improving the image of Career & Technical Education in the United States.
We have worked with administrators, teachers and staff daily for the past 33 years and have become keenly aware of the unique needs of multimedia video production for education so that prospective students have a chance to see what is available to them in their own backyards. We have become the leading company in the United States for the production of recruitment/orientation programs for Career & Technical Schools and Technical Colleges in the U.S. and the Virgin Islands.
Technimedia Studios has produced over 2,500 custom educational promotional multimedia projects for individual schools, school districts, and State Departments of Education, throughout the United States, and even the Virgin Islands. We have produced programs that have aired on the USA Network, Nickelodeon, QVC and Home Shopping Networks; and produced for large corporations like Chevron, and Government agencies like NASA. Whether working in the field of Education, Business/Industry or Government, Technimedia has successfully met the unique needs of our clients.
We have been featured in the American Career and Technical Education publication "Techniques" magazine for our committed and exemplary 33-years of commitment and dedication to promote Career and Technical Education!